We can now do crazy color combinations. I can do black 35th anniversary stripes with red airbrushing instead of the usual white. Of course I can now do silver airbrushing in addition to many other colors - blue, yellow, green, gold. I don't have a good way to present all the options on a website for easy clicking, so you will need to email or call me at 574-361-9868. This machine does more than I can efficiently bring to market, which is a good problem to have.
GHOST COLORS - One of my new favorites is the ghost look. The printer lets me print in new ways and I have come out with a new graphite look that makes a diminished, ghosty look on a black car, such as my wife's black mustang. This can be done for Camaro and Trans Am kits as well.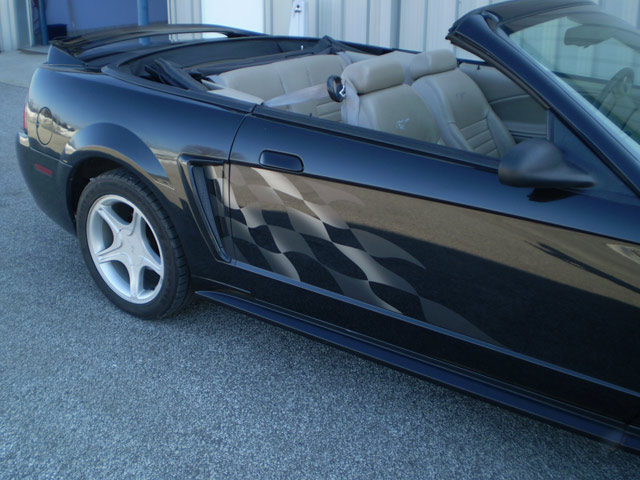 Kits that are printed on this printer get a clear coat, so they are very shiny and very durable. Some things that we make (like plain stripes that are all one color) do not get printed but are instead cut from solid colored sheet film.
Those kits do not require any clear coat, meaning if you are ordering multiple things to go on your car then you should call me so we can be sure of what you need, so that it all matches not just in color but in the shine, too.
All of the films are premium cast vinyl. I do not sell any of the cheaper calendared films at all. As much as I like my customers, it's just best for both of us if you do not need to call me after you buy a kit, lol. I'm just playing; I don't mind talking people through troubles or helping them understand installation techniques. But I sell exclusively the expensive films because I honestly don't have time for a bunch of 12 month failure complaints.