Click on the photos to see more of the same car.
DO NOT BUY THIS KIT UNLESS YOU READ THIS WHOLE PAGE.
Obviously there are success stories on this page, but this kit is very difficult to install correctly. I know this because I jacked one up myself. My second attempt was a success, but initially a bit rough. So...
Now every kit will come with TWO (2) hoods, so you can mess one up, or share with a friend should you be so lucky.
Here is a similar hood that's a lot easier to install, which you can click for more details.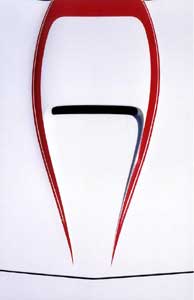 There is a rear end available for this kit which bumps the price from the hood-only price of $100 to the complete price of $150. Both prices include shipping.
Pics of the kit rear end are here.